Epectase was born from a desire to bring together various approaches, reflections and visions around eroticism. A wild eroticism that does not allow itself to be enclosed in norms, labels or moral judgements. An eroticism that seeks to emancipate itself from oppressive patterns and positions of authority.
In this issue is an interwiev of the Epectase magazine by the Epectase magazine. We republish it below.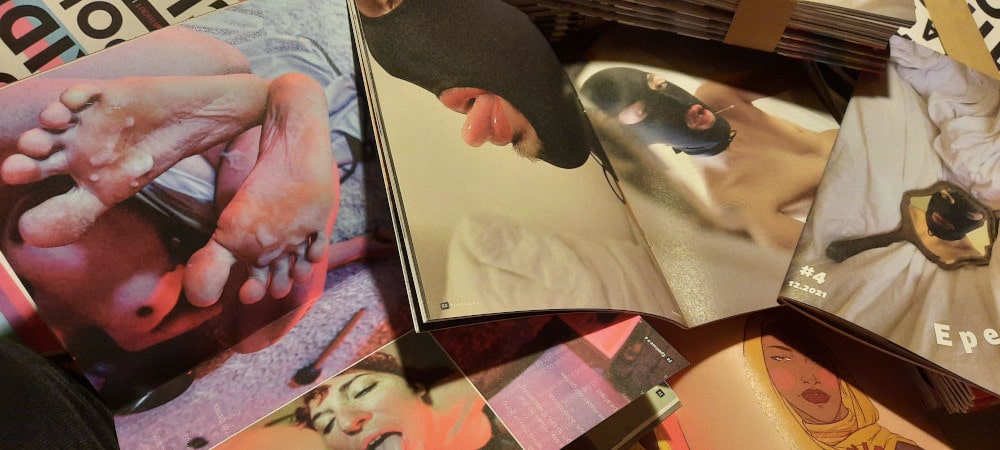 Interview with the Epectase magazine
Hi, thanks for participating in this interview. First of all, can you quickly introduce yourself?
Hi. I wish to remain anonymous so I won't describe myself too much here. Let's just say that I don't identify with any gender identity and that I have a burning anarchist desire for freedom and a deep hostility towards all forms of authority. I conceive my life as an adventure and now for quite some time living a very diverse and varied sexuality, with all its mistakes and its beauties but always accompanied by many reflections and evolutions. That's what made me want to launch this project.
Can you tell us more about it? How was the Epectase magazine began?
At first I wanted to write a collection of anecdotes and erotic stories that I had personally experienced. But on reflection, I found it too egocentric and decided to open the contributions to my friends and accomplices. That's how the first issue of Epectase came about. Afterwards, I wanted to open up the concept even more and it became a completely participatory project. The basic thought was that, apart from mainstream porn and Hollywood romances, we are cruelly
lacking in representation around sexuality, eroticism and seduction. There is more and more feminist porn, but paradoxically it often creates a hype and a feeling of inaccessibility. At the same time, I met a lot of people who were reappropriating these topics and experiencing very interesting things. I wanted to offer them a platform through this magazine. To make visible these approaches, experiments and reflections without hierarchy between them. All the bodies are beautiful and all the paths are interesting. An eroticism without label or Authority, what is that? As i grew older, I quickly realized that any label that was put on me restricted my freedom through the injunctions that accompanied it. This is true especially in the area of sexuality and gender. I don't recognize myself in any gender, precisely because the injunctions and expectations that come with being seen as a man or as a woman make me feel violated. When I sleep with someone who is seen as the same sex as me, it is reduced to homosexual sex when in reality it is a unique moment between me and the other person. Unlabeling means for me to unlearn my gendered education and to reappropriate my sexuality, my body, my fantasies, my clothing etc. It means breaking with dominant norms and codes, without contributing to recreate new injunctions and legitimacy superior to another. By showing the multiplicity and variety of erotic experiences, I'm trying to break these forms of hierarchy. Whether it`s working, is another question (laughs).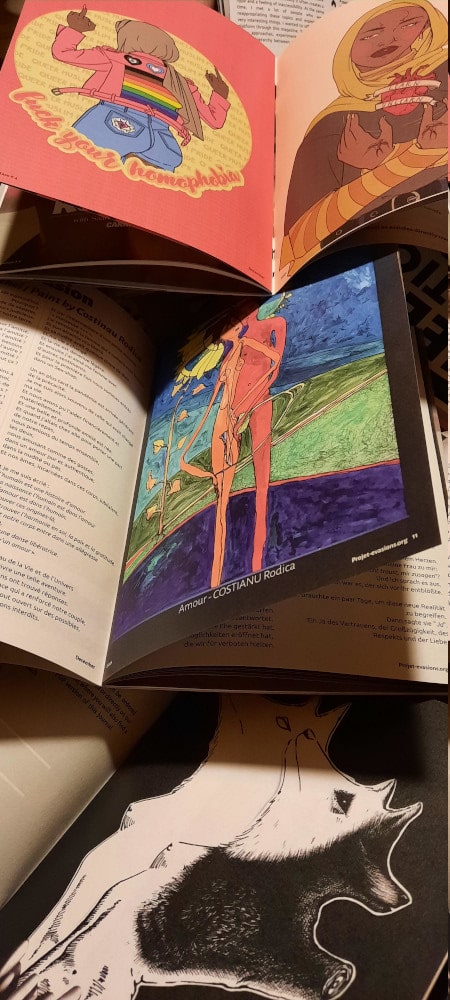 A political eroticism, does it really exist?

Of course it does. When patriarchy influences our fantasies and sexual practices and when pop-culture sells us romantic relationships as a unique model, it's political. What I propose is that our eroticism should also be nourished by our struggles and our revolts. Eroticism is not something universal (well, nothing is universal), but is built and deconstructed at the rhythm of our imaginations, our experiences and encounters.
Practically speaking, how does the creation of an issue of Epectase work?
The magazine is published every 6 months. Once the contributions are collected, I start the most fun part: the layout. The editing and distribution work is done by a larger collective, the "projet-evasions". 400 copies are printed and handed out by the distribution network of the projet-evasions. At the same time the magazines can be ordered at free price on the internet: projet-evasion.org. There is also a list of bookshops, cafés and other places where the magazines are available. The digital impact is quite international, as as can be seen in the variety of participants. As for the paper versions, they are for the moment mostly distributed in Switzerland and neighboring countries. And by the way, I am actively looking for accomplices who are interested in participating in the distribution, be it in a city or a region. It could be forwarding the magazine to the places or to people who order it through the website. Notice to those interested:
evasions@riseup.net
What difficulties have arisen in this project?

One of the issues I have been working on since the beginning of the project is how to make sure that all types of bodies and identities feel welcomed to take the place offered by this magazine. How not to contribute to the reinforcement of social standards through the over-representation of bodies that conform to the beauty norms? This is a question to which I do not yet have a satisfactory answer, except that I do not wish to go looking for participants in order to create this diversity in an artificial way. That would mean reducing people to the fact that they don't fit the existing norms, which seems very problematic to me. No answer yet then, but I still have the feeling that people involved are becoming more and more diverse, which is a good sign.
Another problem is money. Our funds are, shall we say, limited. Without the support of the printing company, the project would probably not be able to continue. So please, generous souls: let the money flow.

Anything else?

A big thank you to the 40 people who contributed to these four issues of Epectase and to all those who helped with translations, printing and distribution.