Here you can find all our publications for free download.
Book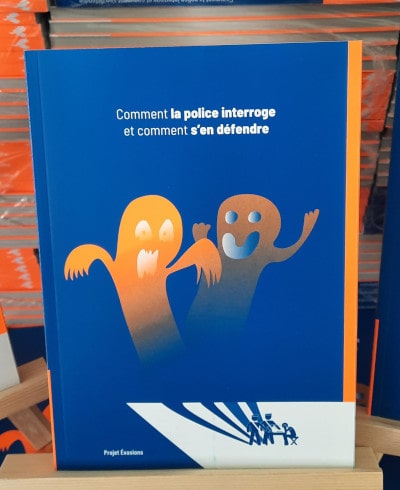 160 pages printed in monochrome, everything you need to withstand a police interrogation.
For the moment the book is not available in English. Do you want to help translate it? Contact us.
Magazine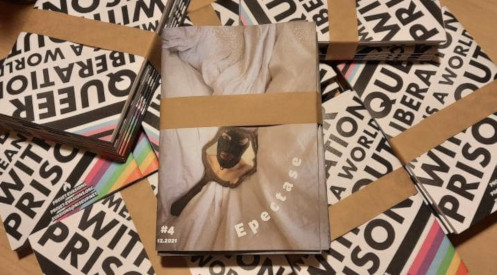 The queer anarchist erotic magazine Epectase.
In English – French – German – Italian
Zines
Digital safety guide for sex workers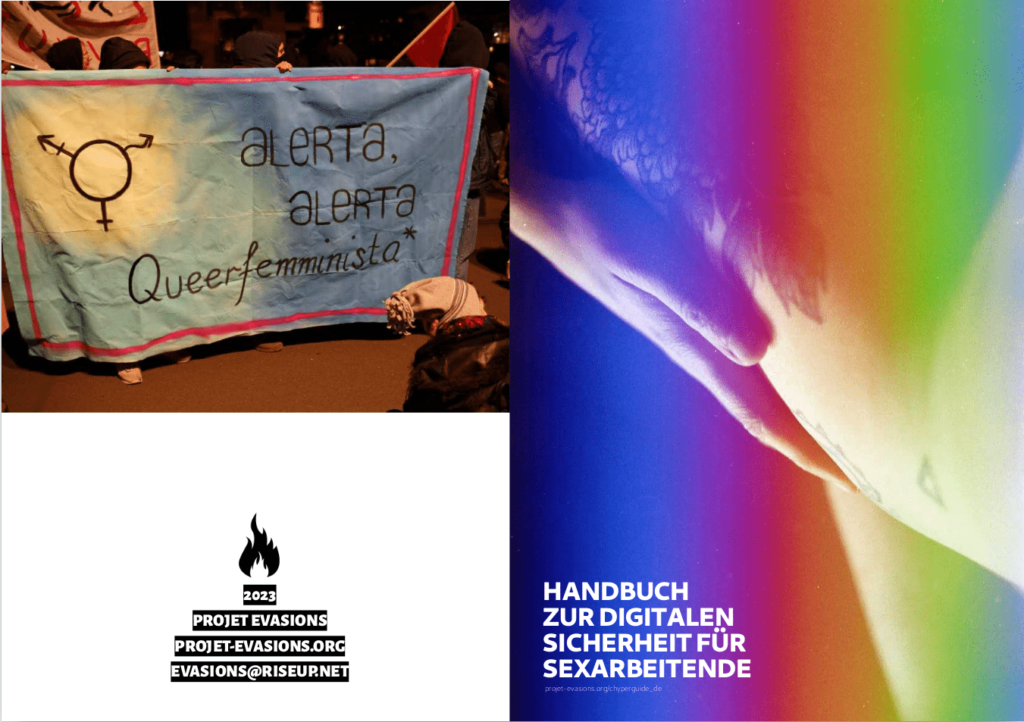 A few years ago, the queer feminist collective Cypher Sex wrote and published an excellent guide to digital safety for sex workers. Inspired by their work and concerned by the issue, we translated to german it and adapted it to the Swiss context.
How transphobic flowers fade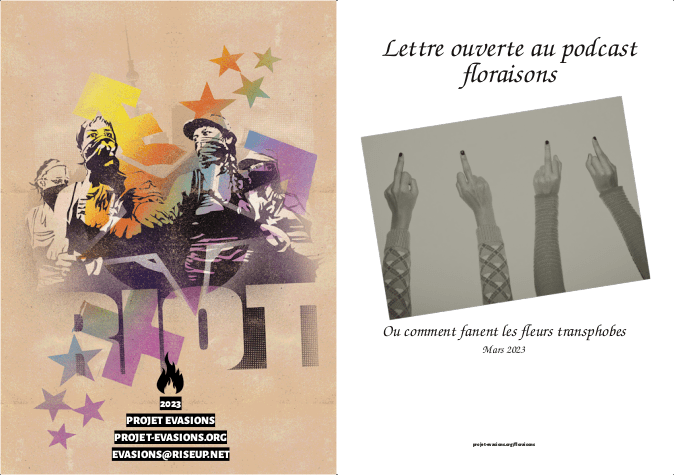 Open letter to the podcast Floraisons about their entry into the reactionary spiral of sanctimonious paternalism towards sex workers and increasingly unbridled transphobia.
Before we die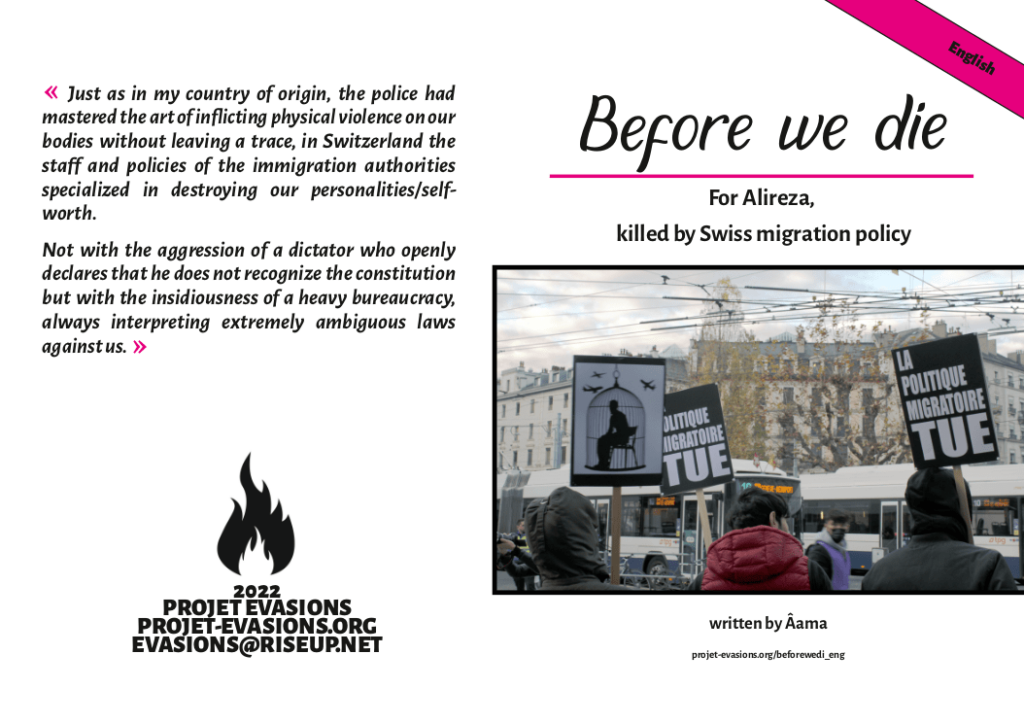 Written after the suicide of Alireza, a young Afghan asylum seeker, this text explain from inside the camps how the Swiss migration policy devalues and pushes to suicide.
Hate Work – Support Sexworkers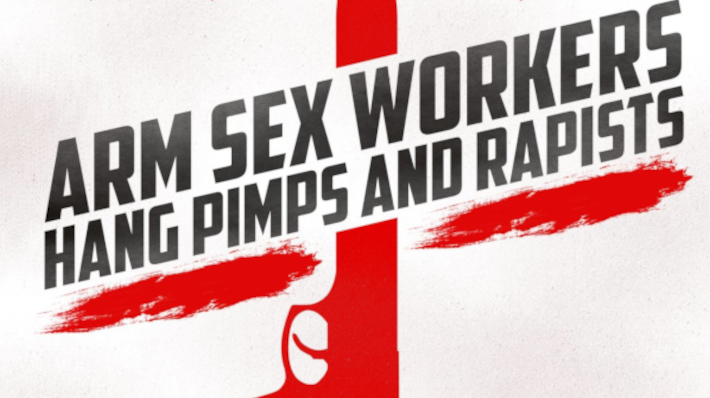 An interview about sex work made for an art exhibition during summer 2022 in Lausanne, Switzerland.
The story of Oleg N.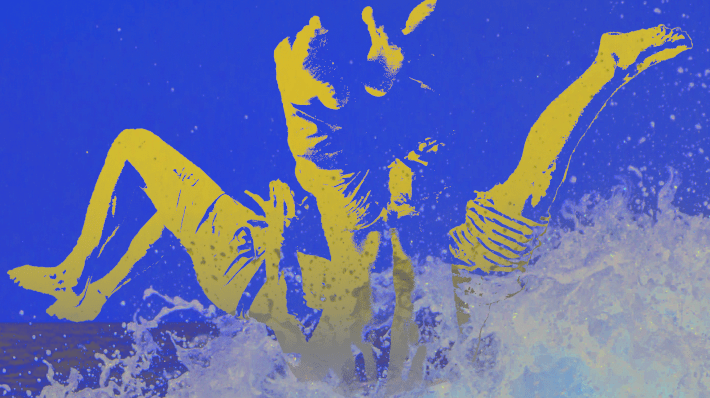 On November 12, 2012, Oleg N., a queer Russian, committed suicide in the Zurich airport prison after his asylum application was rejected. Let us keep his story in our memory.
Zine illustrated by Joujou_tdj.
To the article.
Revolte 2019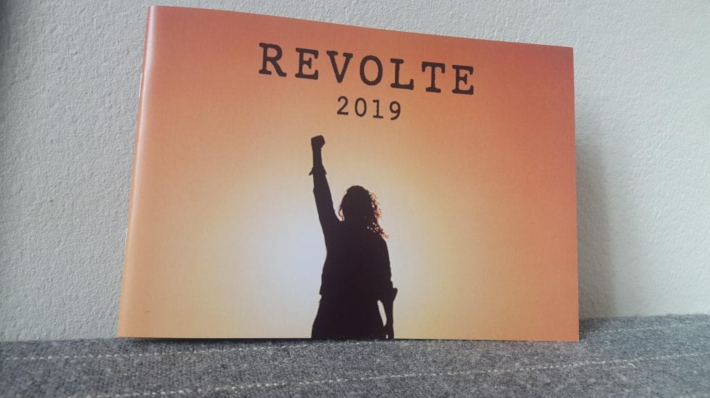 "Revolt 2019" compiles the various revolts that the year 2019 has brought.
Letters to the prison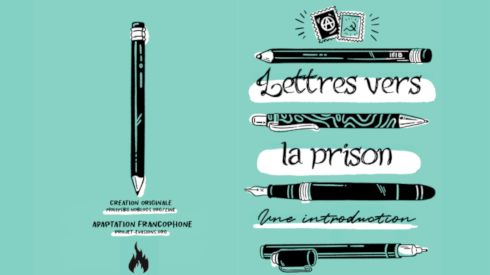 French adaptation of an excellent guide to writing letters to inmates in prison.
Games

Childfree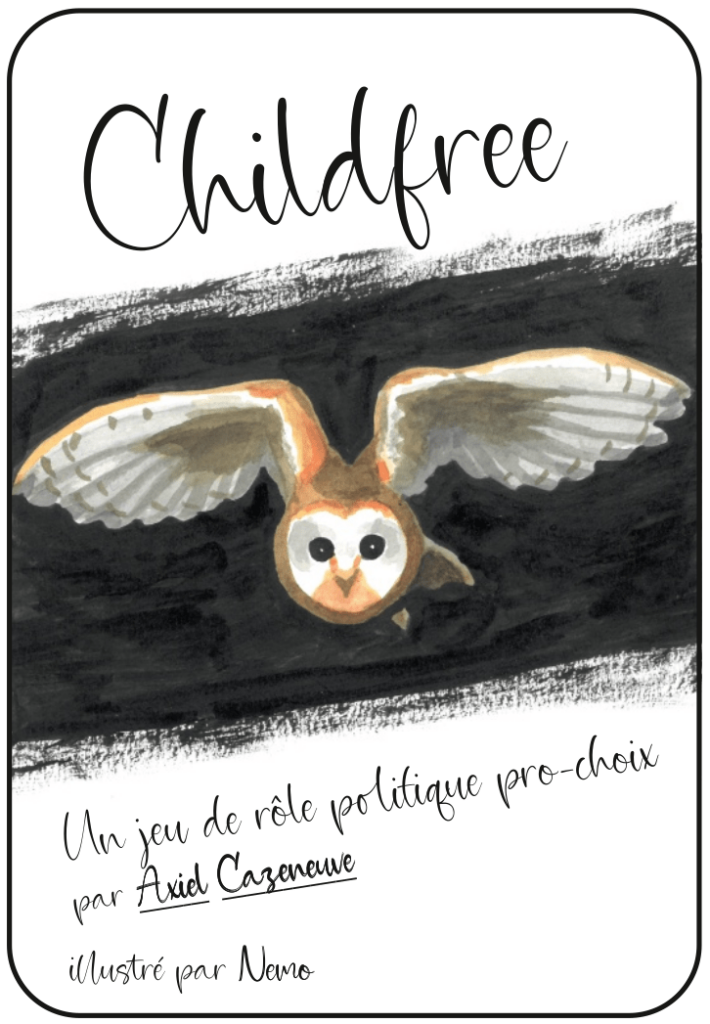 Childfree is a larp about owning one's own body, about being empowered to make life­ changing choices and pursue one's dreams and projects.
It is a larp about choosing to get an abortion.
TACEO #1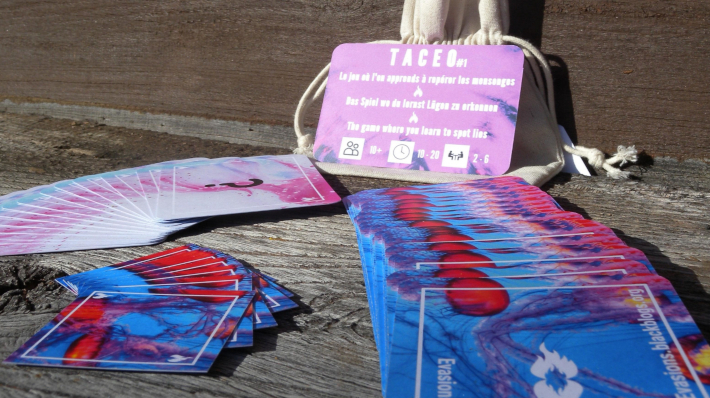 A card game against the police. For 1 to 7 persons. In German-French-English.
Go to the article.
Poster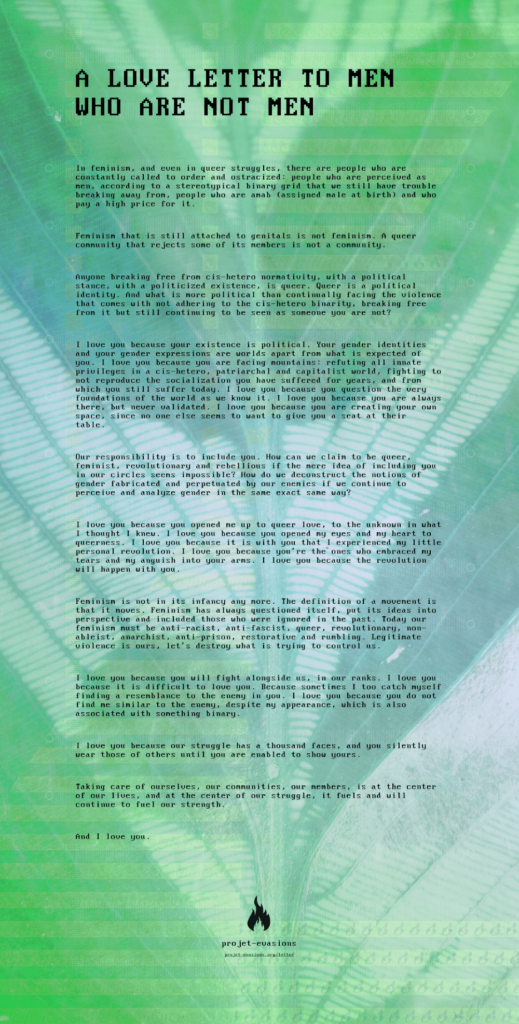 A letter and a poster as an expression of love to assigned men who no longer are or never were.
Read the Article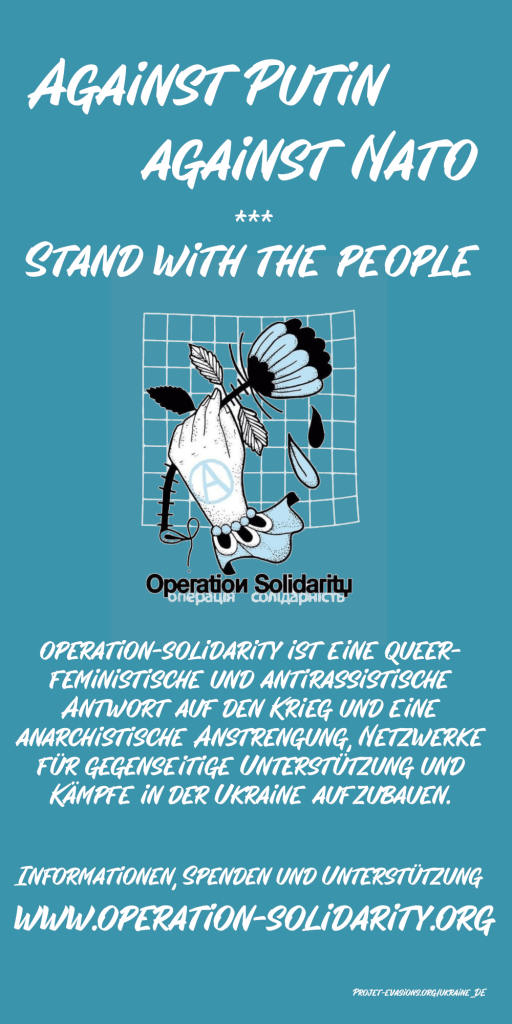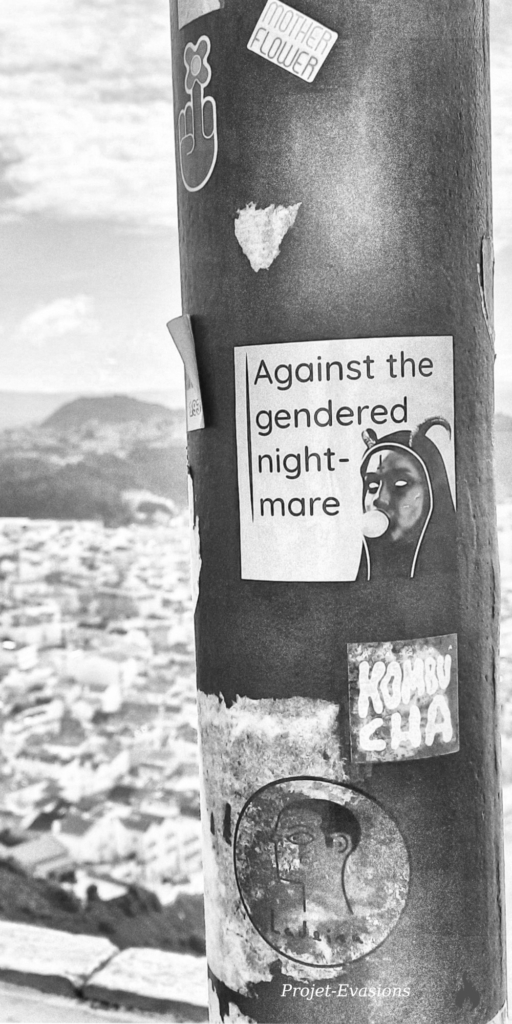 Poster made with one of our stickers pasted in Portugal
Audio
Livre-Audio – Comment la police interroge – français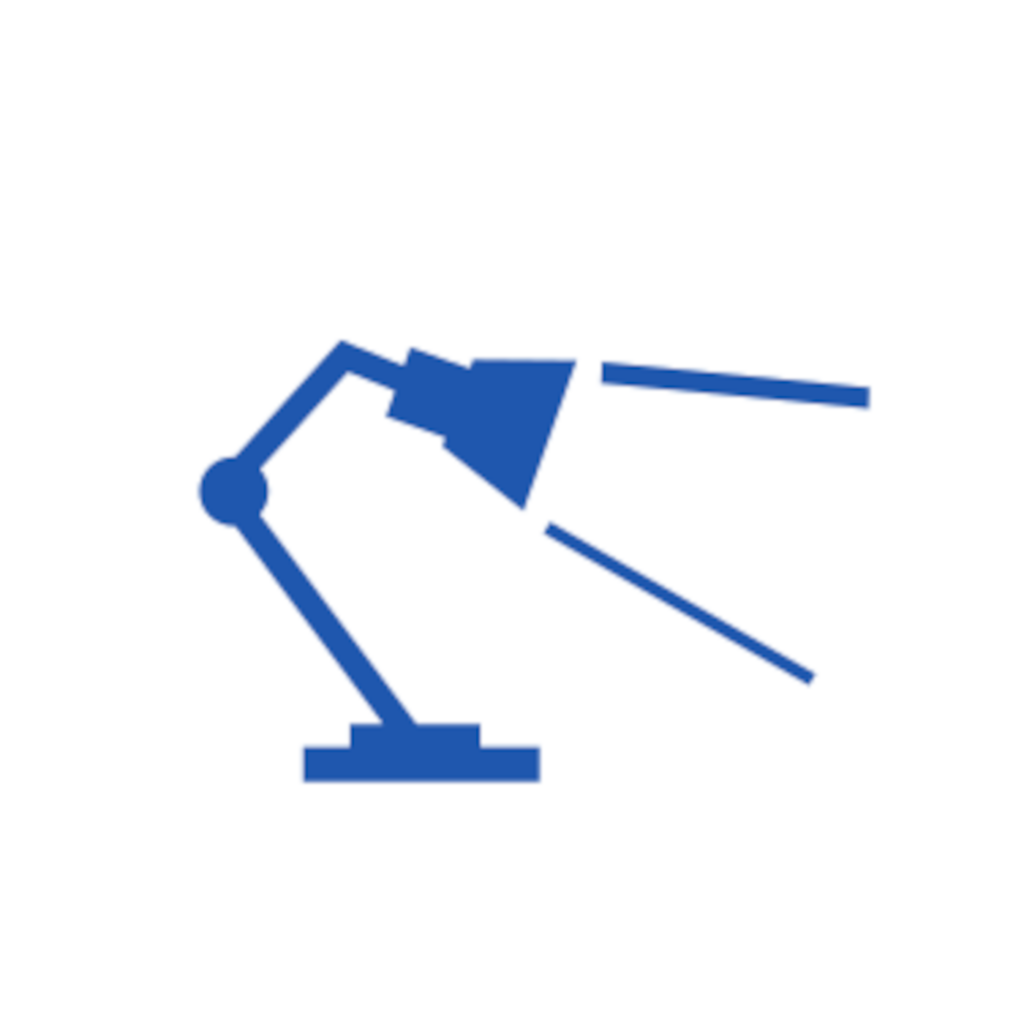 Podcast Les étoffes – français