---
7.10.2021 – look here for some Update about the game TACEO.
---
At a time when criticism of the police – against its institution and its function – is spreading more and more widely throughout society, it is a pleasure to announce the release of TACEO #1 – a game against the police.
In Latin TACEO means "to keep silent". A perfect name for a game in purpose is that the best line of defense during a police interrogation is to keep silent.
TACEO #1 is a pico-game; a short game with a simple playing mechanism, playable at will or almost. It is a card game (60 cards). A person take a card and describes what's on it or invents content. The other person has to find out if the description actually matches the image on the drawn card or if everything is invented.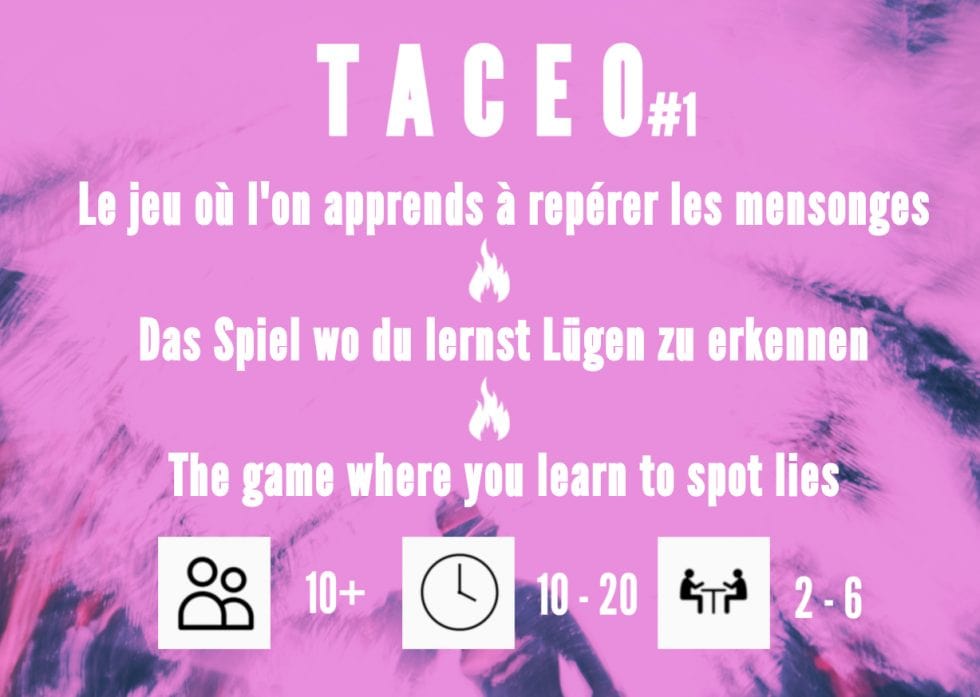 Diffusion
The game can be ordered in West-Europe (France, Switzerland, Germany, Belgium, Italy…) by post at free price by sending an email here: evasions[at]riseup.net.
You can also find here the complete file ready to be printed and assembled by yourself
Diffusing radical emancipatory content outside of commercial distribution channels is no small task and any help in distribution, translation or local printing will be welcomed.
What this game tries to convey
A similar little game is used in police academies to practice questioning suspects. More specifically, it's used to learn how to tell when someone is lying. In this game, it is quickly discovered that it is extremely difficult for an unprepared person to lie or hide the truth by inventing a story. This requires a great imagination, strong self-control, a very good memory – especially when it comes to retelling exactly the same story 1 day or 1 month later without mistakes. Also, during a police interrogation, you are confronted with people who are trained to uncover lies and who are able to use very different strategies to trap people suspected of hiding something. In short, as understandable and legitimate as it is to want to lie to the police, it is important to recognize that this practice very often poses a danger for the person being questioned. I would like to use this game to remind you that in such a situation the best protection is not to lie to the police, but refuse to testify.
And what again is the problem with the police?
In my opinion (as well as my analysis of world history) the police has always been an authoritarian apparatus in the service of an authoritarian state. Whatever the country and whatever the period, the police is the institution that defends the existing order against any attempt at emancipatory and radical change. In addition, there is the inherent oppression that comes from the fact that one category of people is armed and has as a function to control the rest of society.